Here are some more easter projects i did for a friend of mine and family friends!!
-
Αυτές είναι ακόμα μερικές πασχαλινές δημιουργίες που έκανα για μια φίλη μου και για οικογενειακούς φίλους.
1. Easter Basket
-
Πασχαλινό καλαθάκι
2. Decorative Easter Tube
-
Πασχαλινός διακοσμητικός κύλινδρος
3. Easter Card
-
Πασχαλινή καρτούλα
-
Για τις δυο πρώτες δημιουργίες χρησιμοποίησα οδηγίες από το
Whiff Of Joy Inspirations & Tutorials Blog
!! Υπάρχουν πολλές ωραίες δημιουργίες από τις οποίες μπορείτε να εμπνευστείτε για να φτιάξετε και εσείς πολύ όμορφα πραγματάκια!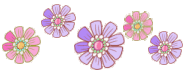 Happy Easter to everyone!!!!
-
Καλό Πάσχα σε όλους και όλες!!!!!